The Beginning of Tomorrow
Posted On July 7, 2021
When I was a little child full of wonder and curiosity, I always looked up to my sister. She was the head girl of my school like I am now; she had a spark in her eyes, an unrelenting desire to become better. That is what inspired me to become a head girl myself. She was an incredible person and a great motivation of my life. I used to wonder how she managed everything. But now I can see that the most important thing is to always have faith in yourself.
It's been about a week since I was assigned this post of Head Girl and I was asked to share how I plan to make a difference to our school.
The first thing that I want to do is encourage reading. I remember when I was in Grade IX, I noticed that my brother used to read a lot of books and his English was very strong, so I started reading too, just to try out something new. That one step literally changed me.
My English improved and my thoughts also changed. Reading triggers your mind to adapt to new things which you may not like right now but will change you in the future. Reading through pages to enter a new world is a fascinating concept.
So this is the first thing which I truly want to change. If I can encourage even a single child to make reading a regular habit that would make me happy because I would have given that one child a tool to make him better, just like I improved.
The next thing I want to improve is to encourage students to learn things in a more practical way rather than a theoretical way. I have seen this and faced this problem myself. Up to 8th standard students are taught just to fill their notebooks and read the questions which are already given. They don't know what the true concept of the chapter is. At that time they believe that they don't have to read the chapters, just learning the question answers is sufficient. But as soon as they enter higher classes like 9th, teachers ask students to write notes on their own since they are in a higher class. The questions in the examinations also turn comprehensive.
The course is vast so they have to read the text and remember everything which is mentioned there. This leads to depression and tension in our young children. They had never practiced anything like that prior in their life. So we should not only focus on the copy work of the child but also on the understanding related to the chapters. The students should be exposed to more practical knowledge rather than theoretical learning.
The last thing is that in this pandemic time each and every one of us is getting bored and the number of students attending online classes is very less. So in order to increase the number of students, teachers should first be taught a more interesting way to take classes, like if we are studying chemistry and about bonds then teacher can make a structure out of balls and show it to the children. For this we can organize different webinars or counselling session for teachers in which many different teachers can share what they do to make their classes better and also how it worked for them. We should focus on how to make classes better at a minimum cost. I think that there are many teachers who can give us brilliant ideas. This will solve a lot of our problems. First the attendance will eventually increase, students will take interest in classes and their concepts will be clear.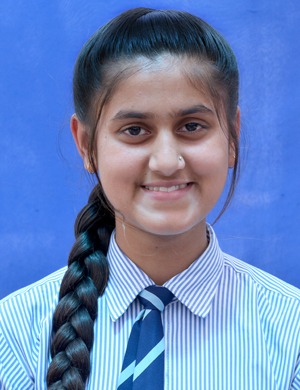 Neha Pandey
Head Girl, MAMS