The Beginning of Tomorrow
Posted On August 25, 2021
I am Aditya Kandwal, the Head Boy at Maa Anandmayee Memorial School. Below mentioned is the list of work that I want to do during my tenure.
Promote Inter House activities
Promote inter-school competitions
Organise School assembly
Weekly meetings of the School Council to discuss the progress of work.
Promote sports
Activity time
Try to raise the bar of academics
Maintain discipline in school
A bridge between the students and teachers
Improve the conditions of library and labs
Friendly nature everywhere
Promote house activities -We already know that the students are divided into four houses i.e, ARAVALI, NILGIRI, VINDHYA, and SHIVALIK with their respective housemasters who can help students by cheering them and increase their confidence level which can help them in their Inter-house competition.
Promote inter-school competitions -By organizing an inter-school competition or taking part in different competitions the quality of leadership, teamwork, and unity will increase among the students which are very beneficial for their future, and by participating in competition they learn how to give their 100%. And by this, they will achieve a good outcome.
Positive school assembly – Assembly is the most important part of student life which helps the students to start their day with positivity and to fill them with positivity there should be a motivation though which will be conducted class-wise every morning.
Activity time – There will be an activity time on Saturday every week where children can do anything they want to do which reduces the disturbance between the classes and the effect on academics.
Weekly meetings- Iwill conduct weekly meetings of the student council which helps all to equalize the burden and we can discuss the problem statement and the solution more efficiently and hastily and the weekly meetings will be held in the activity time.
Promote sports – Sports are as important as studies. Sports are a crucial part of a student's growth and development. It helps in the development of mental health and physical fitness of the body. Through participation in sports and games, a student gains various skills, experience, and confidence that help develop their personality.
Raise the bar of academics- For better results, there should be a better environment of study which can only be done if there will be a bond and understanding between teacher and student so the student feels comfortable and gives his 100 %and scores better marks.
Maintain discipline – Discipline is the most important thing in a student's life and to maintain it, strict actions will be imposed. The student should maintain punctuality and work for perfection.
A bridge between teacher and student – Students can have a real conversation with teachers and they can ask their queries also. This helps to lessen the conversation gap and also increase understanding between students and teachers.
Improve the quality of library and labs – The books in the library are of the old version and our school is now switched to the CBSE board and there is no book available related to the CBSE board. And now coming to labs, the equipment is very old and needs to be replaced.
Friendly environment – I try my best to maintain a friendly and helpful environment inside the campus with no violence.
But now there is only one thing that I want to do that is to increase the rate of attendance in online classes. Finding online classes boring and then not attending them is not the solution to the problem. So first we need to make the online classes more interesting as the teacher can explain practically rather than theoretically. If the students will find the classes interesting, their concepts will be clear.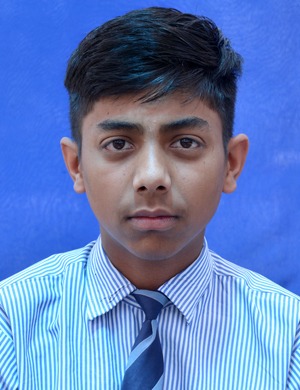 Aditya Kandwal
Head Boy, MAMS